SURFACE BLOWOUT
A system for a beautiful, healthy, longer-lasting blowout.
SURFACE BLOWOUT
Babassu Seed Oil delivers the omega-dense nutrients of Cannabis Sativa Seed Oil into the hair.
Together, these two ingredients create a long-lasting moisture barrier and 450 degree Heat Protection for conditioned, bouncy hair that lasts for days on end.
SHOP BLOWOUT
STYLE MEMORY & LASTING SHINE
Maracuja Oil and Lychee Fruit combine for a super fruit sugar punch giving hair volume, memory, flexible hold, and protection.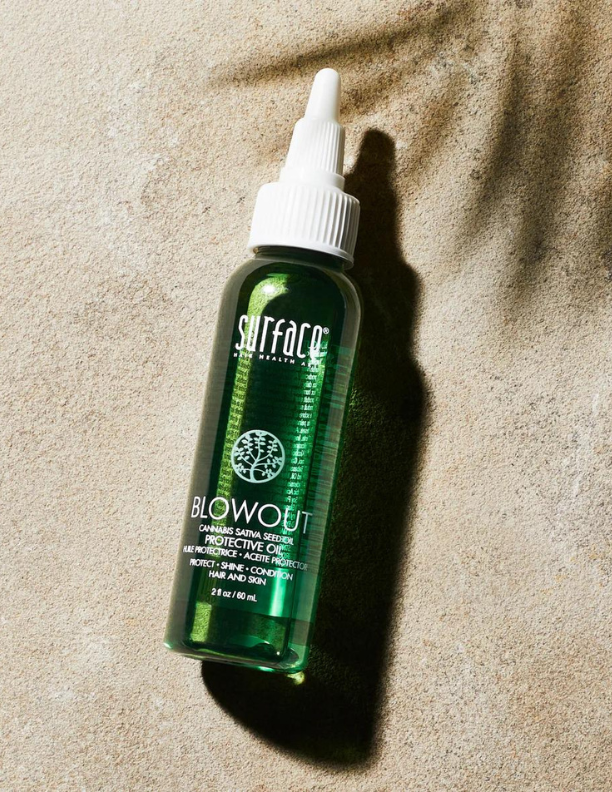 BLOWOUT PROTECTIVE OIL
A luxurious blend of Babassu and Cannabis Sativa Seed Oil provide a long-lasting moisture barrier with Omegas 3, 6, and 9 to soften, hydrate, nourish, and protect hair and skin from free radical damage.
Shop
BEAUTIFUL, FASTER, LONGER-LASTING BLOWOUTS
PRIMER SPRAY

Mist into damp hair before blow drying. For added hair memory and body, mist each section again when hair is 75% dry, then round brush.

Explore

TEXTURE SPRAY

Spray into dry hair. For maximum texture: flip hair upside down and spray a liberal amount into hair. This clear powder leaves hair full and airy.

Explore

DRY OIL SPRAY

Extend your blowout with this lightweight conditioning oil. Mist your finished blowout daily for mega shine and condition.

Explore
KEY INGREDIENTS
CANNABIS SATIVA SEED OIL

Rich in Omega 6 fatty acid for long-lasting moisture that withstands high temperature, providing long-term free radical protection and the perfect ratio of Omegas 3, 6, and 9.

LYCHEE FRUIT (SOAPBERRY)

A potent antioxidant and rejuvenator, Lychee Fruit has a high content of phytonutrient flavonoids which protect hair from oxidative stress caused by heat and UV radiation.

MARACUJA (PASSION FRUIT)

A superior emollient loaded with nutrient-rich fatty acids and Vitamin C, this is the Pure Miracle of the Amazon. Maracuja Oil creates incredible sheen and control.

BABASSU SEED OIL

Babassu oil is a non-drying oil that is considered a superior emollient beneficial for either dry or oily skin and hair. It gently moisturizes without leaving an oily sheen or weight.