PURE COLOR: HOW IT WORKS
BOND BUILDING & COLOR ATTACHMENT: ORGANIC AMARANTH
Achieve deep color deposit and on tone lightening. Penetrating Babassu Oil soothes hair during processing while carrying color and oxidizer deep within the hair.
DELIVERY: ORGANIC BABASSU OIL
Amaranth protein rebuilds structural bonds and binds color to the hair's protein. Known as the "Never fading Flower" Amaranth provides natural UV protection.
ENZYME CREAM ACTIVATORS: PECTINASE & MORINGA
During processing ECA provides pectinase enzymes and moringa with 30+ anti-oxidants to clear free radicals and align the hair's protein fiber maximizing color deposit and crystalline shine.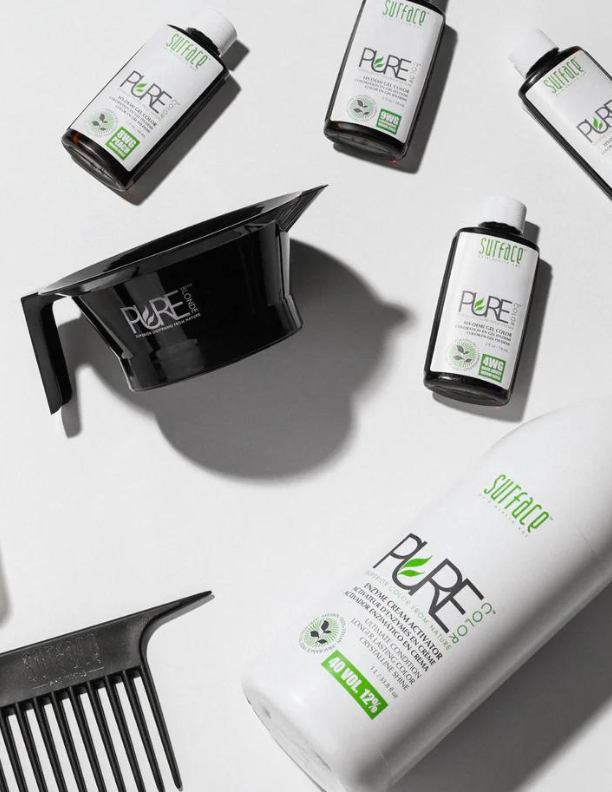 ENZYME CREAM ACTIVATORS
Maximize the hair's condition and color. Babassu, an organic penetrating oil carries the pectinase enzymes and Moringa deep into the hair to reduce free radicals and damage which may occur during processing. This cream base activator is rich in the Color Vita-Complex and fruit acids which seal in color and maximize crystalline shine. Amaranth protein actively rebuilds and protects hair.
Shop Activators
ULTRA LIFT CHARCOAL LIGHTENING POWDER
Pure Blonde Ultra Lift powder with built-in bond repair supports healthy hair with the ultimate antioxidant combination of Amaranth Protein, Babassu and Moringa Oil. Pure Blonde Ultra Lift is a low ammonia formula with activated charcoal that binds toxins to itself clearing free radicals and unwanted minerals from the hair while controlling underlying pigments for a lighter and healthier blonde.
Learn More